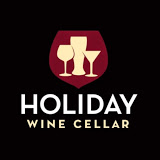 Holiday Wine Cellar is a liquor store located in Escondido, California. But it's not your average liquor store. The selection of beer, wine, and spirits at HWC is one of the best in San Diego County, as well as an extensive selection of gift items.
Structurally, HWC is unique in that it boasts San Diego County's only underground wine cellar, complete with a self-serve, 16 tap wine bar. In addition to this, the store contains a hulking walk-in beer cooler with a vast craft beer selection, and the walls and aisles of the store are lined with spirits from around the world. We cannot forget the big brown archway that welcomes customers into the store and the iconic 85′ tall LIQUOR sign that keeps watch over Escondido just outside the store.
One could spend an entire day in the store and still not explore all that it has to offer. Some even do just this, but we recommend a simpler option: checking out our online store, where you may choose from thousands of products and have them shipped directly to your doorstep.
Holiday Wine Cellar has been a leader in offering the best products available since 1965. Browse our website or, if you are local, stop by our store, and find out for yourself why we have been in business so long. Cheers!
-HWC
0